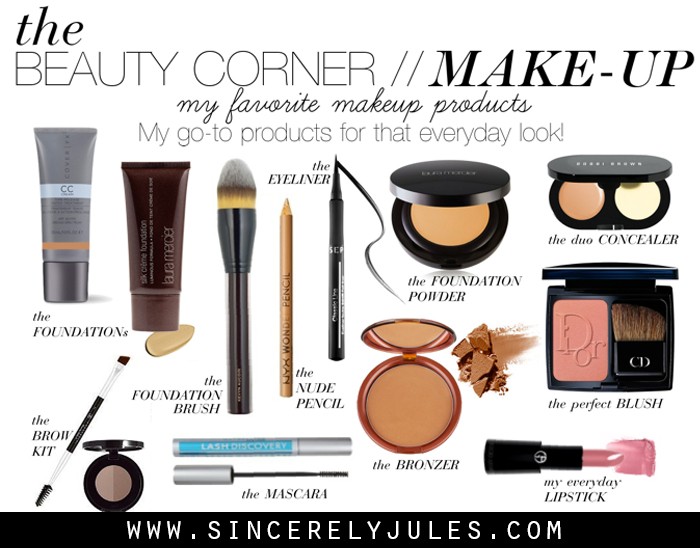 As promised, my daily make up products! I figured that if I was sharing my daily facial products with you, I might as well share my daily make up products too!
These products are what I use for my everyday look. I have other products, which I will share later, that I use for special occasions or when I have to attend events, but I still always wear these basics. These are pretty much things that I can't live with out!
Here is a little info about each of the products and why I love them!
COVERFX CC CREAM medium/deep- This cream is amazing because it helps protect your skin while also providing coverage. It is long lasting – great for a long day of running around- and is constantly helping your skin throughout the day. It is a great base to start with and is so easy to build on top of!
LAURA MERCIER 'Silk Creme' FOUNDATION hazelnut beige- This is a great full coverage foundation. It goes on super smooth and gives you an amazing glow all day long.
KEVYN AUCOIN BEAUTY 'The Foundation' BRUSH- This is my go to foundation brush. It works with any and every kind of foundation. (powder, creme, liquid) It helps foundation go on super smooth and even.
NYX WONDER PENCIL- I love a nude pencil. This one is amazing to cover up little blemishes that seem to creep out during the day. You can also use it to line your waterline to quickly brighten your eyes.
SEPHORA COLLECTION FELT EYELINER- This is the easiest eyeliner you will ever use! The felt tip makes lines super clean and fine and so so easy to apply. It won't smudge, so even if you forget that you are wearing make up you are safe. The best part is that it is as easy to take off as it is to put on.
LAURA MERCIER 'Smooth Finish' FOUNDATION POWDER 07 bamboo-  An amazing moisturizing powder! This is a great powder to add a smooth layer to the top of your makeup. My favorite part about it is that if it's one of those days where you need a little extra coverage you have the option of putting it on wet and instantly those issues are covered up. Usually powders instantly dry you out, but this one is incredibly moisturizing which makes it extra great for the winter months.
BOBBI BROWN CREAMY CONCEALER KIT natural tan/pale yellow- Dark circles? Not a problem! This concealer kit is amazing to cover any dark circles. The concealer goes on super smooth and the pressed powder sets it with out causing and lines or creases.
ANASTASIA OF BEVERLY HILLS BROW KIT medium brown- Perfect kit to achieve those perfect brows! Comes with a great brush, gel, and perfect color to fill in those brows how ever you prefer. They have awesome color options for any brow color.
MAYBELLINE LASH DISCOVERY MASCARA very black- No clumpy lashes here! This mascara is amazing because it has a mini brush that gets all of my lashes. It is super easy to build on for extra length and volume. I have been using this mascara forever and it is honestly the best!
ESTEE LAUDER 'Bronze Goddess' BRONZER medium- Best bronzer ever. Enough said!
DIOR 'Vibrant Color' POWDER BLUSH rose- This blush is the perfect color! I blends wells with any other makeup you already have on and stays on all day. It is great to keep in your purse because it comes with a brush. Perfect when you are on the go!
GIORGIO ARMANI 'Rouge d'Armani' LIPSTICK #511- Lipstick is always a hard one. Sometimes it is just too much for the outfit. This lipstick is a great pink that looks natural and can be worn on the daily. You can also build it up if you do want that extra pink pop on your lips.
There you have it! My daily makeup products! I hope this helps you guys out when looking for great quality basic makeup products. I live by these, so I promise they are great! Always remember to apply makeup onto clean skin. This will help add to a smooth application and will help keep your skin gorgeous and glowing.
Let me know if there is anything else you are dying to see in the Beauty Corner. I love anything beauty and would love to share anything you guys want to know! xo