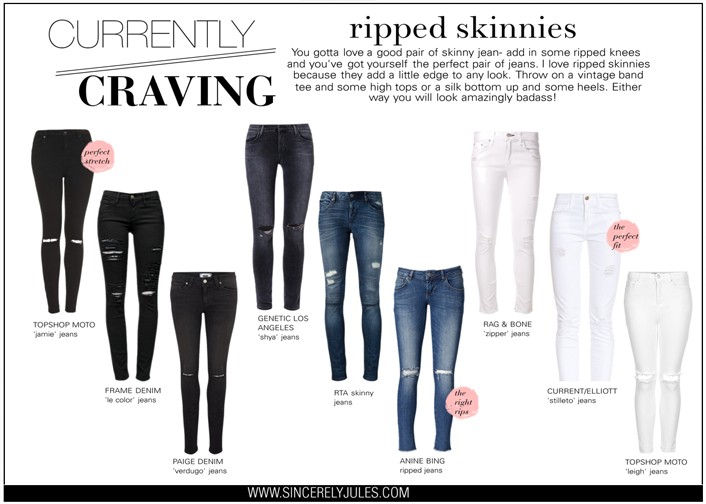 I am always a sucker for a good pair of jeans. I will admit- I am a denim addict! A perfect pair of jeans not only makes every outfit look great, but it always makes you feel great. It is so satisfying when you find that pair of jeans that fits and feels perfect. When I find the perfect pair I try to buy two pairs- just in case something happens to one pair or they stop making them. (the worst thing ever!)
I have been really loving skinny jeans with ripped details. Not only are they incredibly comfortable, but they are equally as adorable. You can literally wear them with anything! To dress them down you can throw on a cozy sweatshirt and a pair of Converse with a black wide brim fedora- a perfect flea market look. To dress them up, you can add a blazer over a blank tee and a great pair of heels. Add on the perfect shade of lipstick and you are ready for date night!
Don't be afraid to try on a million different pairs until you find your perfect match. Once you find your dream pair of jeans you will understand what I am talking about. I promise you, it will complete your wardrobe!
BLACK
BLUE
GENETIC LOS ANGELES 'Shya' jeans 
WHITE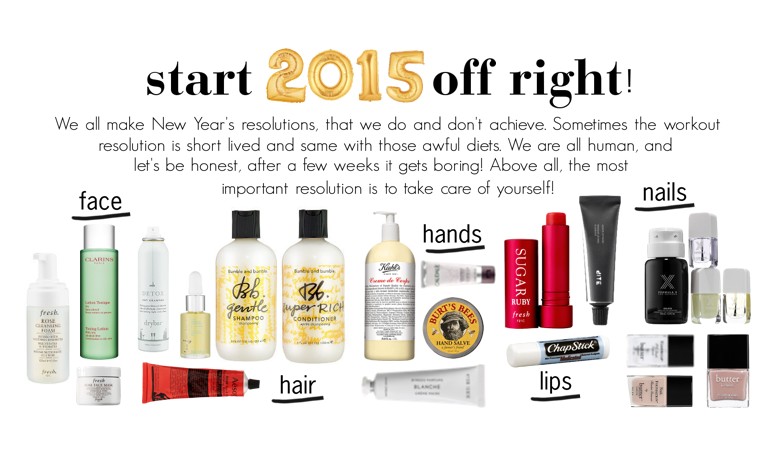 Welcome to 2015! I am so excited for this year and all the things it has to offer. I always love starting new years because it kind of gives you a clean slate. I know that most people vow to eat healthier and work out more, but that never works for me so I stopped doing that years ago. I like to set a few different goals each year. Whether it be something easily attainable, like taking vitamins everyday, or something on a larger scale, like buying a house! No matter what goals you choose it is important to give yourself ones that are easily within reach and also ones that really make you work.
One of my 2015 New Year's resolutions is taking better care of myself. When I say this I mean taking care of my skin, hair, and nails. These are things that we should always take care of, because what you see is what you get. In the end these are things that you can't replace and any damage you do now, will only get worse as the years go by.
These are a few products that I love and highly recommend to always keep around. Some of them are great everyday products and others are ones you can use as needed. Not only will you be looking good, but you will always be feeling good because all of these products are amazing!
FACE
HAIR
LEA JOURNO revive french plumb oil
AESOP rose hair and scalp moisturizer 
BUMBLE AND BUMBLE gentle shampoo 
BUMBLE AND BUMBLE super rich conditioner 
HANDS