The Rose Bowl Flea Market has finally opened its doors since the pandemic and I couldn't be more excited. If you're unfamiliar with this flea market, I'm so happy to introduce you to it and share tips I've learned over the many times I've visited. The flea market is located in Pasadena, California and takes place at The Rose Bowl Stadium, which was once home to the 1984 Summer Olympics and the 1994 FIFA World Cup (just a cool lil backstory for y'all 😉 ) and opens on the second Sunday of every month. 
There are vendors for miles with the most unique goodies, from vintage clothing (this is where I find all my amazing vintage Levi's), antiques, furniture, to art pieces etc. Just make sure to have patience when rummaging through everything – trust me, it's worth it! So whether you're looking for something specific or want to get a feel for it, the Rose Bowl Flea Market is a great place to experience. I'm looking forward to more flea market shopping in the months to come, all while maintaining 6 feet apart of course.
Ps- Special shoutout to my sister @Lilylove213 and my brother in law for joining me on our little flea market trip! My sister has a cute blog too! Make sure to check it out and follow her on IG! BLOG + IG 
Keep scrolling for helpful tips!
I'M WEARING:
Super excited to share a few tips to help you get the most out of your experience:
I highly recommend you arrive early. Regular admission opens at 9am but I like to get there between 7 – 7:30 (no later!) to make sure I get good parking + you'll be able to explore before the big crowds show up. But do note that some vendors might still be unpacking if you arrive early. 

Dress cute but comfortable. You're going to be doing a lot of walking, so make sure you throw on your most comfortable shoes. You'll also have so many great opportunities for a cute flea market OOTD photo for the 'gram, so a cute outfit doesn't hurt. 

Make sure you don't skip the SPF and bring a hat to protect you from the sun as you will have no coverage. And don't forget to bring a bottle of water to stay hydrated.
If you know you're going to leave the flea market with heavier objects I recommend you bring a cart, like this one

here

or

here

from amazon. Sure you might feel nerdy, but it is super convenient, you don't want to get stuck trying to figure out how to get things to your car! Also, bring extra totes to store little finds and wear a crossbody or backpack so that you're hands free and can shop comfortably. 
Set a strategy before going, have a list of what you're looking for, make good use of the color coded maps to navigate your way around, as it can get overwhelming and you can find yourself in the same spot without realizing. Also take note of the vendors you like, so you can shop with them again on your next visit.
Make sure to bring cash – most vendors prefer cash and you'll be able to negotiate a better deal with cash vs CC. 
Hope these tips help you on your next flea market adventure or if it will be your first time going. If you frequent the rose bowl flea market, please do share some of your tips if you have any! I love helpful tips and tricks! 😉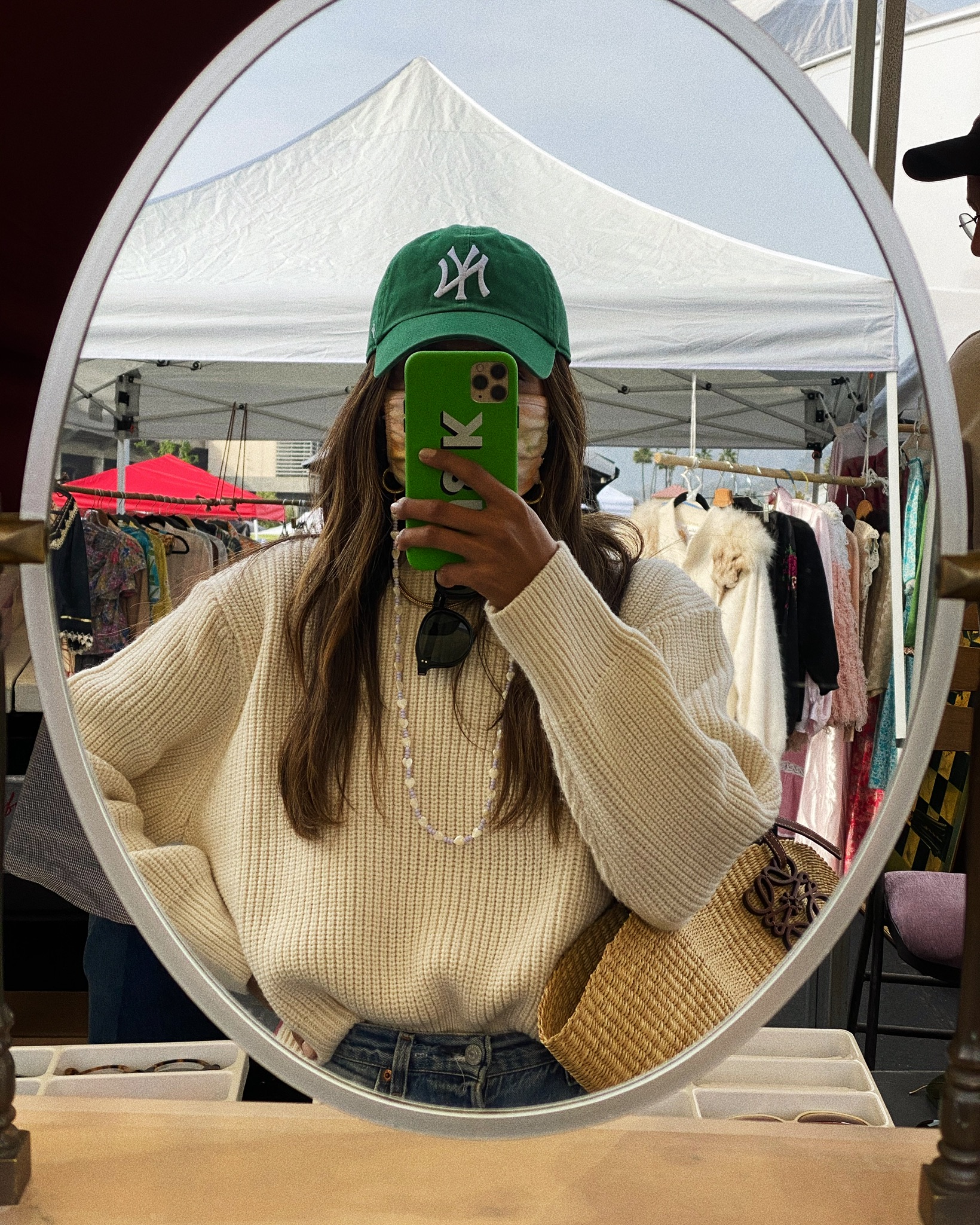 You'll also have so many great opportunities for a cute flea market OOTD photo for the 'gram!
You'll also have so many great opportunities for a cute flea market OOTD photo for the 'gram!